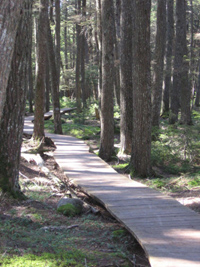 Old Growth Forest, Nova Scotia


ANDY SMITH'S HALIFAX GHOST WALK
In the Summer of 2006, I took one of the ghost walks on offer in Halifax, and the one I chose was operated by Andy Smith's Ghost Walk of Historic Halifax.  Smith has a keen sense of the city's past and offers an engaging, historical counterpoint to the more spooky-themed tour offered by the Halifax Ghost Walk, which I have heard is also a good deal of fun.  It might be worth your while to take in both if you are keen on Halifax history and spooky stories!
Smith is a charming guide. He moved to Halifax from New York via Toronto - an aspiring actor who had starred in several local commercials and in extras roles. He tells good stories, and several of the sites on the other Halifax Ghost Walk are apparently the same on Andy's tour. But Andy does not give you spooky - he gives you history. He cleverly debunked some legends that other tour companies had been telling people about the Halifax Explosion and its ghosts. Highlights included an old cemetery, Alexander Keith's brewery, a former brothel and tales of the Titanic. This is a solid tour that carries on to this day with lots of history and mystery. Smith has a fun sense of both, an enjoyable sense of humour.
Both tours meet at the Old Town Clock on the Citadel.  Consult with their websites for times and other details.
Recommended.
Andy Smith's Halifax Ghost Walk
http://www.tattletours.ca/
And the famous ghost walk which I'll take in the next time I'm in Nova Scotia…
http://www.thehalifaxghostwalk.com/
Photo Credit: Chris Laursen