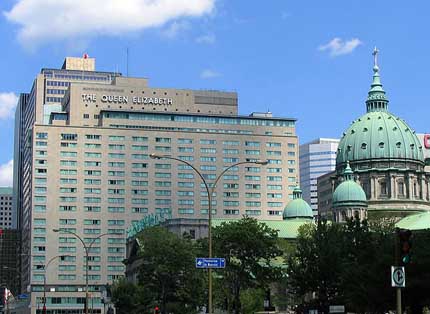 The Queen Elizabeth, known in French as Le Reine Élizabeth Hotel, is a very large, and  beautiful hotel that is located at 900 René Lévesque Boulevard West, Montreal. This Canadian National Railway hotel was completed in 1958, and now belongs to the Fairmont Hotels and Resorts chain. It currently holds the record for being the largest hotel in the province, and is quite famous.

We received the following report of strange happenings from a guest, who questions whether or not the hotel may have an active haunting. By tradition it is rumoured to be haunted by a female spirit in a white dress.


"I experienced spirit phenomenon in my hotel room this morning .... No i didn't see it but it definitely got my attention. No I didn't feel threatened but...I believe that it was active in the room for about one hour starting at about 6 am.  Sounds were being made all over the room of which I was trying to logically determine were from elsewhere... the room next door, the hallway, etc.  Although I tried I could not convince myself that the sounds were coming from anywhere but in my room.
 
The sounds were:

*a person pacing walking close to the bed and around the room

*sounds of things moving

*in the bathroom & in the main part of the room  ( no, I didn't hear the
  water turn on...)

*almost like the sounds someone would make if they got up and were
  getting ready for the day

*the sounds were loud enough to keep waking me up and eventually I was
  very aware but not sure that I wanted to stop the phenomenon.
 
Then it woke me up with a physical push (jolt) to the mattress ( in which I was still lazing about...in and out of sleep.. but definitely not at that point).  Message clearly received - Get the hell out of bed !  It's time to get up!   No, I didn't hear a voice accompany the shove.

So I acknowledged the presence and said I was definitely awake for the day and that he could now leave. I would like to find out if others have also had the same experience at the Queen Elizabeth hotel?"
 


Our thanks to the witness for sharing these experiences with us. We appreciate, and hope that by sharing these types of events other who may be experiencing something similar can take some comfort in knowing they are not alone. Can you add to this report? Do you have further information on the ghostly activity reported at this hotel? Or have you experienced something possibly paranormal in Montreal Quebec? If so, please contact us at admin@psican.org Your privacy will be protected, and confidentiality is assured.